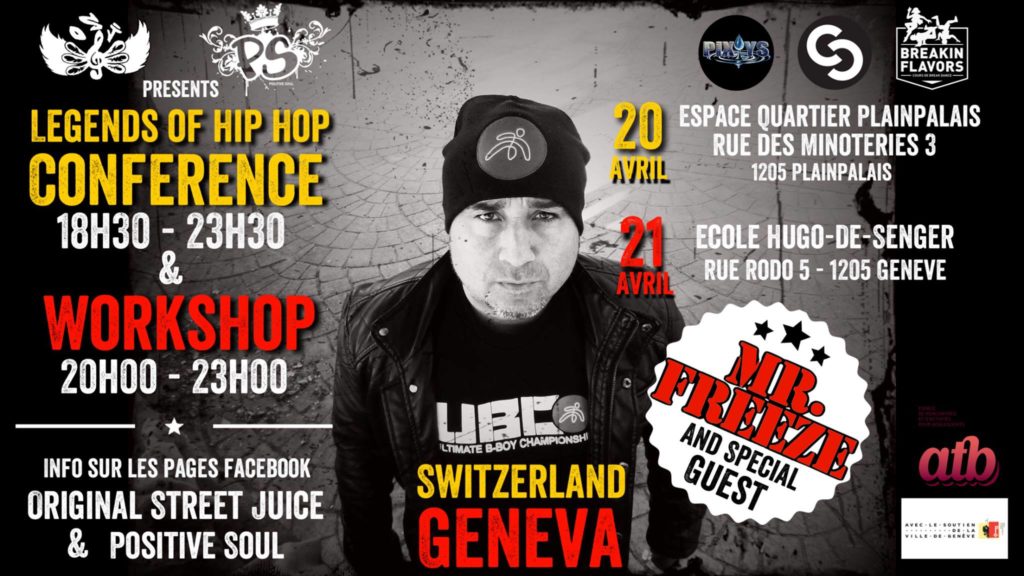 ( Ultimate Bboy Championships – Original Rock Steady Crew )  
Original Street Juice et Positive Soul ont le plaisir et l'honneur, de vous convier à un évenement exceptionnel.
Dans le cadre de la 1ère édition du "Legends of Hip Hop Conference", nous avons le plaisir de recevoir parmi nous, l'un des pionnier de la danse Hip Hop, Mr.Freeze en personne, pour une conférence exceptionnelle, ainsi qu'une discussion et un échange avec d'autres personnalités, de la danse en Suisse.
Jeudi 20 Avril 2017 – 18h30 – 23h30
Legends of HipHop Conference : Mr.Freeze and Guest
Espace quartier Plainpalais
Rue des minoteries 3
1205 Plainpalais
Workshop Mr. Freeze – USA, New-York 
Mr.Freeze, Marc Lemberger de son vrai nom, est un pour ainsi dire l'un des pionniers du bboying et de la culture Hip Hop. Il s'est surtout illustré dans la danse, au sein du Rock Steady Crew, en tant que bboy et popper, et ce depuis la fin des années 70.
Il est en partie à l'origine de l'expansion, de la danse Hip Hop à travers le monde, avec son apparition dans le film « Flash Dance » ou encore le documentaire « Style Wars ». Ce jeune passionné de danse, issu des quartiers du Bronx, à New York, ainsi que ses amis devenaient des modèles d'inspirations, pour toute une génération, à travers le monde.
Mr.Freeze est toujours actif en tant que danseur, professeur organisateur, orateur mais aussi chorégraphe. Un awards d'honneur, lui a été décerné par la chaîne de télévision BET (BlackEntertainment Television), pour sa contribution à l'émancipation de la danse Hip Hop et de la culture en générale.
Vendredi 21 Avril 2017
Workshop avec Mr.Freeze :
20h00 – 23h00
Ecole Hugo-de-Senger
Rue Rodo 5 – 1205 Genève
Trailer Workshop Mr.Freeze
Facebook : @Original Street Juice
Facebook : @Positive Soul Geneva
Twitter & Instagram
Photo by Cédric Sintes